Website Production Specialist
Family-Friendly Hours & Work from Home

Fast-Growing Digital Marketing Leader

Healthcare Focus… Helping Doctors Succeed
In 2004, Steve Anson and Bill Esteb founded Vortala with a simple vision to help doctors grow their practice using the Internet.
Today, our dedicated team of 85 marketing professionals serve thousands of healthcare practices worldwide. Busy doctors trust Vortala to manage their practice website and lead their digital marketing strategy.
Our core values are Trust, Service and Innovation. Our team culture is based on practicing an Outward Mindset which is the simple idea that, "our success is a by-product of helping others succeed."
Is our culture a good fit with your work and life philosophy?
Our brands include, Perfect Patients (allied healthcare), Smile Marketing (dental) and we're expanding into other healthcare verticals.
ABOUT THE ROLE
As a Website Production Specialist, your mission is to effectively manage the onboarding of new clients, and to assist them in launching their website as quickly and efficiently as possible. Working alongside our team of internal specialists, including web builders, designers, SEO specialists, copywriters, and IT professionals, you will bring our clients' visions to life and create high-converting websites that set them up for success.
To keep pace with the deadlines and workloads, you'll be provided with ongoing support, training and development opportunities.
Reporting to the Asia Pacific Client Services Manager, you'll work with our allied healthcare brand, Perfect Patients (chiropractors), and Smile Marketing (dentists), and manage a portfolio of new and existing clients in the building/redesigning of their website and digital presence. You will be responsible for managing client expectations and keeping the project moving forward. Must be self-driven and highly adaptable.
Your specific role responsibilities include, but are not limited to:
Project management of new and established client websites
Confidence to host interviews with doctors (recorded for website content development by our internal copywriters)
Managing client expectations and internal resources to ensure a successful and timely website creation process
Proactively identify clients business needs and objectives to assist in building of website and digital presence to improve new patient conversion
Demonstrate excellent listening skills to understand our client goals and objectives to effectively translate to our internal teams
HOW TO SECURE AN INTERVIEW
To be invited for an interview, you should possess the following skills and experience:
Superior client service

and

management experience
Commitment to excellence in customer communication (both verbal and written)
Excellent organization skills to effectively prioritize tasks and initiatives

for multiple projects

A working understanding of all aspects of websites and digital marketing (SEO, Conversion, Design, Copywriting, Domains, Emails)
Basic HTML skills, website building knowledge is desirable
Project management experience
Our ideal candidate should possess a high attention to detail, be able to follow established processes with precision, and be a collaborative team player with excellent communication skills, both with clients and internal teams.
If you thrive in a fast-paced environment, are adaptable to change and have a sense of humor, enterprising curiosity, a strong work ethic and a positive outlook, this just may be the right role for you!
Experience in the health profession and working with doctors is desirable but not essential.
Although there is flexibility on the work schedule, you would need to work 80% of your day between 8am-5pm AEST, Monday through Friday.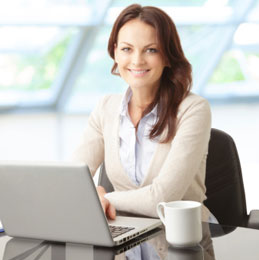 Our mantra is, "the company can only grow as fast as its people."
This means we're committed to your ongoing personal and professional development including weekly individual and team development activities.
This is a full-time position with flexible, family-friendly hours.
You'll work from the comfort of your home office and connect with your colleagues worldwide using the most advanced online collaboration tools.
Vortala is a fast-growing, equal opportunity employer riding the healthcare and technology wave.
Ready for a new challenge with a company that cares deeply about you and your development?
APPLY HERE